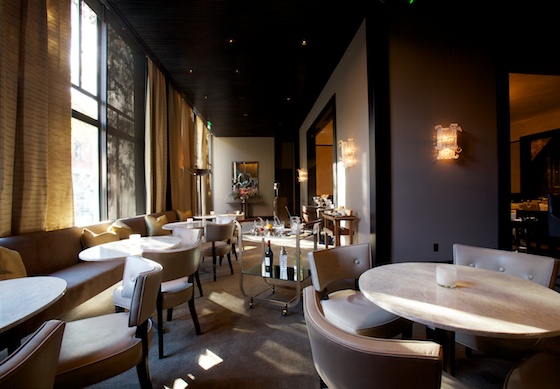 For about a year now, Quince has shared a star rating with it casual next-door sister restaurant Cotogna — Michael Bauer gave Cotogna three and a half stars out of the gate in 2011, which was the same rating he had given to the more formal and refined Quince, though he justifies this by saying he rates restaurants as compared to others in their own categories, etc. For his Sunday review, he now upgrades Quince to the four-star club, making it the eighth restaurant to join this prestigious list. He compares Michael Tusk's current menu to Mozart's "Paris Symphony," saying, "Each course builds on the last."
He praises both the four-course and nine-course chef's tasting menu options, and seems especially impressed with what Tusk is doing with raw seafood these days. He calls out a dish of Scottish langoustine crudo, and another of steelhead tartare with white asparagus. And he loved a pair of pasta courses, one with blue lobster that he says was "among the sweetest I've tasted"; as well as a risotto with ham and green peas. Also he was bowled over by a green-garlic sformato served with a lamb course, calling it "a Chez Panisse moment, where you think, 'This is what green garlic should taste like.'"
The evolving look of the dining room wins him over too, saying it feels "even more luxurious and indulgent" than before, and he says the service is "caring, intuitive and nearly flawless."
But even though it's a four-star review, he is not the biggest fan of Devin McDavid's desserts! He says they "didn't deliver the same sense of wonderment as the savory offerings" and even manages to sneak in a zinger about how no one should ever smear chocolate on a dessert plate: "think of what it looks like."
Alas, it isn't enough to change his mind about the place, and he loves the new cocktail cart that delivered him some amaro as a digestif. He gives them four stars in all categories.
(Just for the record, the other seven Bay Area restaurants that currently hold a four-star Bauer rating are Chez Panisse, Coi, Cyrus, The French Laundry, La Folie, Manresa, and Meadowood.)
Quince review: 4-star restaurant gets even better [Chron]
Earlier: Behold Quince's Swanky Remodeled Bar and Lounge