the food chain
Susan Feniger Loves the 'Gooey' Spicy Sly at Pearl's Deluxe Burgers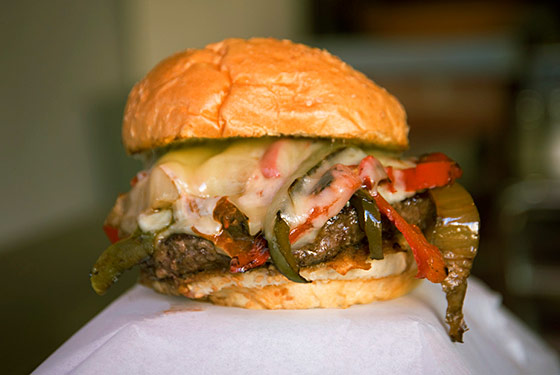 Each week on the Food Chain, we ask a chef to describe a dish he or she recently enjoyed. The chef who prepared the dish responds and then picks his or her own memorable meal. On and on it goes. Last week, Boston chef Jody Adams selected Susan Feniger's tatsutage fried chicken at Street in L.A. Today we've asked Feniger to tell us about something she really loves. What say you, Susan?
"All the burgers at Pearl's Deluxe Burgers in San Francisco are great, but there's one I like called the Spicy Sly with caramelized onions and peppers, some sort of spicy sauce, and cheese, I think it's Jack. Caramelized onions and peppers is one of my favorite combinations, especially with a spicy mayo, it's something I love. It's kind of like the rajas combination from the Latin kitchen. I really love a gooey burger and this one is really gooey."
And now, Sylvia Park, owner of Pearl's Deluxe Burgers, explains the inspiration and preparation behind the Spicy Sly:
"Sly is my nickname, so the Spicy Sly is named after me. Being a Korean American born and raised in the food mecca that is San Francisco, I love exotic flavors, and spicy food is a must. Two of my favorite kinds of food are Korean and anything South of the Border, so when it came time to create a burger with heat, I wanted to meld these two flavors without clashing. The Spicy Sly burger has sauteed red and green peppers, caramelized onions, cheese, a little mayo, and the Spicy Sly sauce, which has habenero chiles and ground pumpkin seeds in it. Korean food is famous for serving a variety of spicy pickled condiments with every meal, which is represented by the sauteed peppers and onions, and the sauce is a nod to both spicy Korean food and the hot, smoky nutty flavors in rich Mexican mole sauces and salsas. The mayo is there to mellow out the hotness, because without it it might be a little too intense for most people.

"We use grass-fed ground chuck with a lean-to-fat ratio of 80/20. I love the marbling in this cut that makes for the tastiest burgers, but the key to the perfect burger is flipping it once, no more than twice, on a searing hot, flat griddle to retain all the juices. Give me an open flame grill for steaks and chops, but a burger must be done on a flat top for perfect caramelization and the ultimate juicy, drippy, dribble-down-your-chin deliciousness."